According to Breastcancer.org, about 1 in 8 women in the United States (about 13%) are expected to suffer from invasive breast cancer during their lifetime.
Breast cancer treatment offer causes a number of painful and debilitating side effects, like skin conditions (radiodermatitis), to problems with sleep quality.
Photobiomodulation (PBM) therapy – a form of light therapy – has been used in cancer treatment for more than 20 years, and a wide body of research has explored the efficacy of its use for breast cancer treatment. Many studies conclude that PBM therapy offers support for breast cancer patients, and research has shown PBM to be effective for treating radiodermatitis, swelling caused by lymphedema, and other cancer treatment complications.
Although there are a variety of promising results, research continues to explore the subject. This guide provides a look at ways PBM therapy has been shown to be helpful in breast cancer treatment, highlighting a variety of relevant research sources.
What Is PBM Therapy?
Photobiomodulation therapy, which is sometimes referred to as Low-Level Laser Therapy (LLLT), is a therapeutic modality that uses low-intensity, non-ionizing light sources, typically lasers or LEDs, in the red or near-infrared spectrum. This light energy is used to stimulate cell mitochondrial and promote tissue regeneration.
The therapy works by emitting photons that are absorbed by mitochondrial chromophores in cells. This boosts the production of ATP (cellular energy), leading to increased cell proliferation and migration, modulation of levels of cytokines, growth factors, and inflammatory mediators, and increased tissue oxygenation.
PBMT's potential role in cancer treatment is a growing area of interest. Preliminary research suggests it may help manage treatment-related side effects. For instance, it has shown promise in treating oral mucositis, a common side effect of chemotherapy and radiation therapy.
Other potential applications include the management of lymphedema in breast cancer patients and radiation dermatitis. Moreover, PBM therapy might promote wound healing and tissue repair following surgical intervention.
How PBM Therapy Supports Breast Cancer Patients
Photobiomodulation therapy has been used to support cancer patients for more than 20 years. Specifically, there are two ways PBM therapy is used to treat breast cancer:
PBM therapy has been shown to ease side effects of chemotherapy and cancer treatment. Research suggests PBM therapy is helpful for treating a wide range of side effects, including sleep disturbances and oral mucositis.
Researchers have also looked PBM therapy's effect on cancer cells and tumor growth. However, the research on this subject is less clear. Some trials have found PBM therapy to reduce or slow cancer cell growth, while other trials suggest light therapy may actually stimulate cell growth. Generally, it's believed the frequency and intensity of the light is important for this form of treatment.
As such, in the area of breast cancer treatment, photobiomodulation is typically used a complementary therapy to treat side effects. Cancer treatments may also cause imbalances in the body, contributing to oxidative stress. Research suggests PBM light therapy helps reverse oxidative stress.
Easing the Side Effects of Cancer Treatment with Photobiomodulation
A variety of clinical trials have shown that PBM therapy can reduce the side effects of cancer treatment. For breast cancer patients and survivors, the most promising uses for PBM therapy include:
1. Treating Cancer Complications
A large review of research explored PBM treatment for a wide range of complications of cancer care, with the authors ultimately suggesting PBM is helpful for treating complications like:
Dysgeusia
Trismus
Mucosal and bone necrosis,
Hand-foot syndrome
Alopecia
Peripheral neuropathy
Late fibrosis among cancer survivors
2. Reducing Sleep Disturbances, Fatigue
Fatigue and sleep disturbances are common side effects of cancer treatment, and light therapy may help to improve sleep quality and fatigue among cancer survivors.
A small study of women who had completed treatment for early-stage breast cancer found that a two-week light therapy regime resulted in significant improvements in sleep quality. Ultimately, the authors concluded that the type of light that's used, as well as timing the therapy based on the individual's natural sleep-wake cycle, is important for efficacy.
3. Treating Swelling from Lymphedema
Lymphedema is a build-up of protein-rich fluid in the body's soft tissues, and it can significantly impact the physical and psychological health of breast cancer survivors. A systematic review of research explored clinical trials looking at PBM therapy's effectiveness for treating breast-cancer related lymphedema (BCRL).
Ultimately, the authors found evidence from three high-quality trials that PBM was more effective than sham treatment for reducing swelling, while two other trials found moderate or limited evidence. The authors concluded that PBM may be an effective treatment for BCRL; however, more research is needed.
4. Reducing Severity of Radiodermatitis
Radiodermatitis, or radition burn, is a painful skin condition that's a common side effect of cancer radiation therapy. Several studies have explored using PBM therapy for radiodermatitis.
A large review of research looked at 3 clinical trials that included about 300 patients in total, with 142 actually receiving PBM therapy. The authors concluded that PBM can reduce the severity of radiodermitatis, while noting more research was needed.
5. Stimulating the Immune System
There is some evidence that PBM therapy activates the immune system and can improve the immune response during cancer treatment. However, the degree and type of immune response is typically influenced by treatment factors, including site and light intensity.
About Our Photobiomodulation Devices
Hue Light offers several PBM therapy devices that deliver low-level laser light, including a whole-body photobiomodulation chamber, a PBM red light pad, and a breast photobiomodulation mat.
The breast PBM device is designed to provide relief from pain and other breast-related health issues. You simply wear the device, select the Nogier frequency for light intensity, and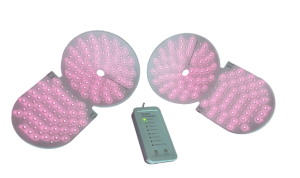 Our whole-body photobiomodulation therapy bed resembles a tanning bed, and provides whole-body light stimulation. Treatments in the light bed are useful for improving sleep health, stimulating immune response, and may be helpful for treating cancer treatment side effects.
Additionally, we offer a PBM red light mat. This device is designed to be worn on the abdomen, and it delivers light energy to gut and may help to improve gut health. This targeted PBM device is useful for a range of conditions.
Ultimately, all three of these devices offer the benefits of PBM.
Whether you're looking for at-home devices for photobiomodulation therapy, or you own a clinic or medical facility serving cancer patients, Hue Light's state-of-the-art PBM equipment offers best-in-class performance. Contact our team today to learn more.